Puerto Aventuras is one of the most popular tourist destinations in the Riviera Maya and we are not just saying that, it is a destination well known for its beautiful beaches and relaxed atmosphere.
In addition to its stunning natural beauty, Puerto Aventuras has a wide variety of lodging options to meet the needs of all visitors.
Best Hotels in Puerto Aventuras
Hotels in Puerto Aventuras offer everything from luxurious suites and high-end villas to more economical options for travelers on a tighter budget. In this Cubo Informativo article we will tell you about some of them, the best places to spend a few pleasant days and enjoy the beaches, the tranquility and the tropical paradise in general.
Puerto Aventuras Hotel & Beach Club
The Puerto Aventuras Hotel & Beach Club resort is a luxurious Caribbean beachfront resort with a variety of first-class amenities and services. These amenities include a beautiful beach, pool area, fully equipped gym and a world-class restaurant.
It makes it one of the best Puerto Aventuras hotels to spend your vacation in the heart of the Riviera Maya, but unfortunately, the hotel does not accept pets, but it is perfect for families and children.
That means that if you're traveling with children, you won't have to worry about anything because the hotel offers a variety of services and activities for the little ones to have fun.
And if you are looking for more reasons to know if this resort will be your best option, we can tell you that the hotel's facilities and services are designed to provide guests with a comfortable and relaxing stay.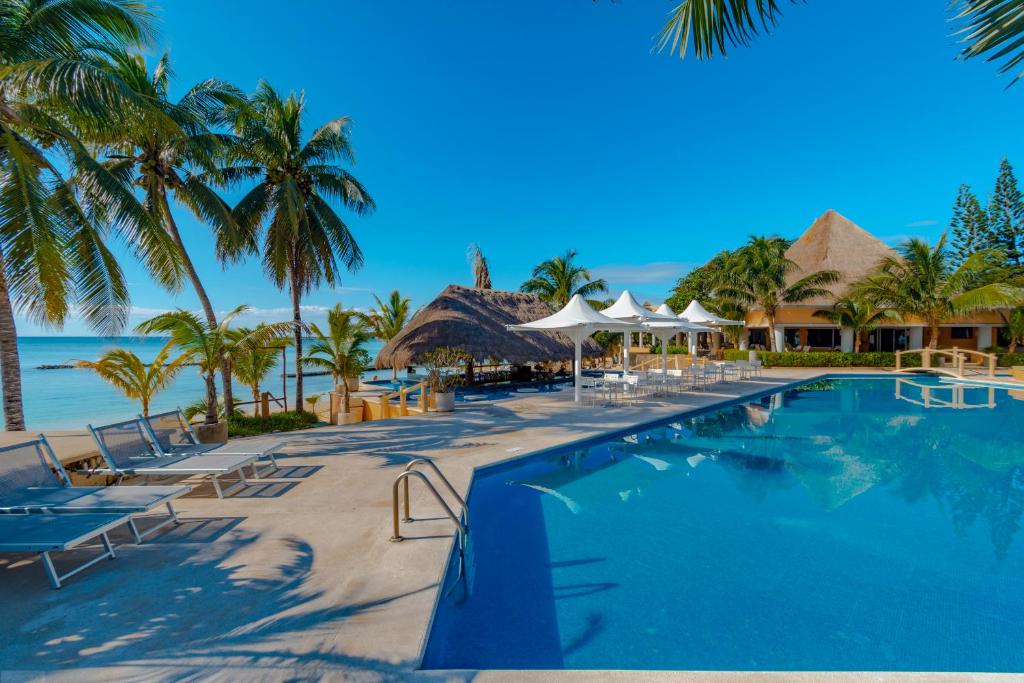 Hard Rock Hotel Riviera Maya
The 5-star, all-inclusive Hard Rock Hotel Riviera Maya joins our list and offers us a perfect, luxurious, oceanfront and comfortable place for a memorable and even repeatable Caribbean vacation.
It offers an all-inclusive space for families, couples and vacationers looking for a first-class, relaxing and fun-filled vacation experience.
How does this hotel provide such an experience? The Puerto Aventuras resort features luxurious accommodations ranging from standard rooms to opulent suites, each designed with exclusive rock star details and amenities.
The hotel offers several restaurants, bars and lounges serving world-class cuisine and premium beverages. In addition, the resort features a variety of activities and entertainment options, including pools, spa, fitness center and various activities for the whole family.
Ver esta publicación en Instagram
Hard Rock Hotel Riviera Maya – Heaven Section
The Heaven Section of Hard Rock Hotel Riviera Maya is a luxurious and exclusive option for guests seeking a serene and tranquil environment.
The section has an adults-only policy, making it an ideal retreat for couples and avid music lovers. In addition, the hotel offers personalized services, including private check-in and an exclusive beach area for guests.
As we said, it's an adults-only hotel that houses a wide range of services, including spa services, bars, restaurants and a nightclub, where everything you do here stays here.
Catalonia Riviera Maya Resort & Spa
Another of the best hotels in Puerto Aventura that can't miss in our list is the Catalonia Riviera Maya Resort & Spa hotel.
This exquisite five-star resort features remarkable amenities, impeccable service and breathtaking tropical landscapes, a hotel where everything has been designed to provide a unique and unforgettable vacation experience for the whole family.
The hotel has a wide range of entertainment options, including water sports, live shows and tennis courts. Unfortunately, the hotel does not accept pets. However, the resort is an excellent choice for families with children, as it has a fantastic water park with slides and other exciting attractions.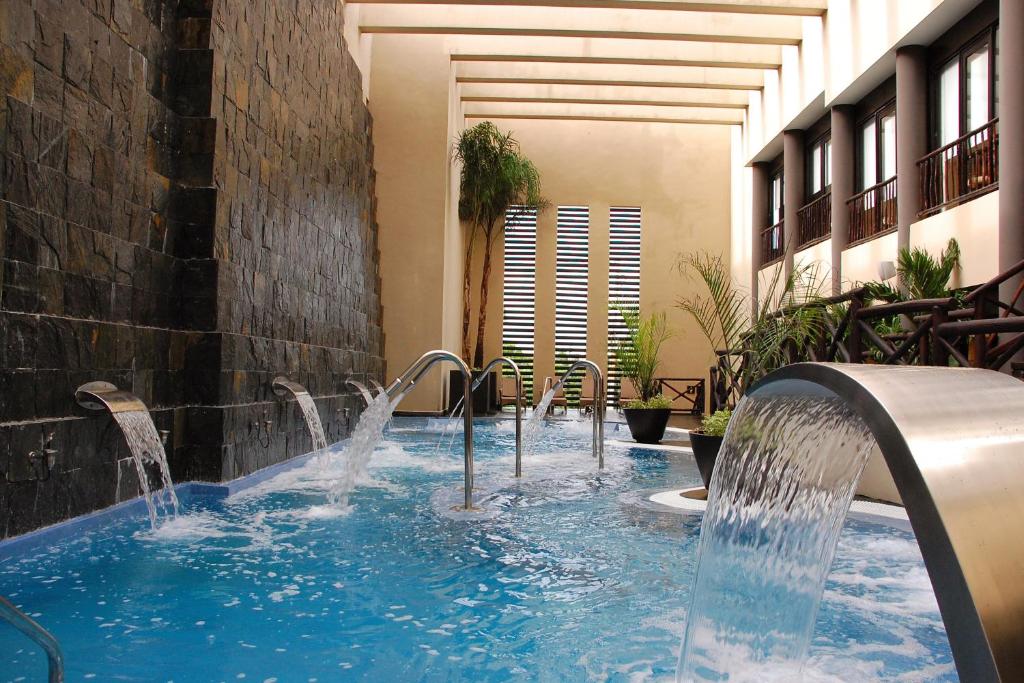 Dreams Aventuras Riviera Maya
The Dreams Aventuras Riviera Maya hotel in Puerto Aventuras is a luxurious family resort that offers a world-class vacation experience.
It is located on a white sand beach and features numerous amenities, including a variety of dining options, spa services, several swimming pools and even a dolphinarium.
In addition, the resort offers endless opportunities for adventure, such as snorkeling, scuba diving and zip-lining.
It is worth mentioning that the resort is not "Pet Friuenly," however, it is known for being extremely family-friendly, offering a kids' club, babysitting services and daily entertainment programs.
Chez Waffle Hotel
Chez Waffle Hotel Puerto Aventuras is a luxurious hotel located in the heart of Puerto Aventuras, Mexico.
The hotel features spacious and elegantly designed rooms equipped with all modern amenities. All rooms feature furnishings that exude classic charm while offering guests a contemporary touch.
The hotel's facilities cater to the needs of all guests, including an outdoor swimming pool, spa, fitness center and a restaurant serving local and international cuisine. The hotel is located in close proximity to popular tourist attractions such as the Puerto Aventuras Marina, Dolphin Discovery and the Akumal Monkey Sanctuary. L
esidents can enjoy a peaceful and luxurious retreat while being close to some of the area's best activities and attractions.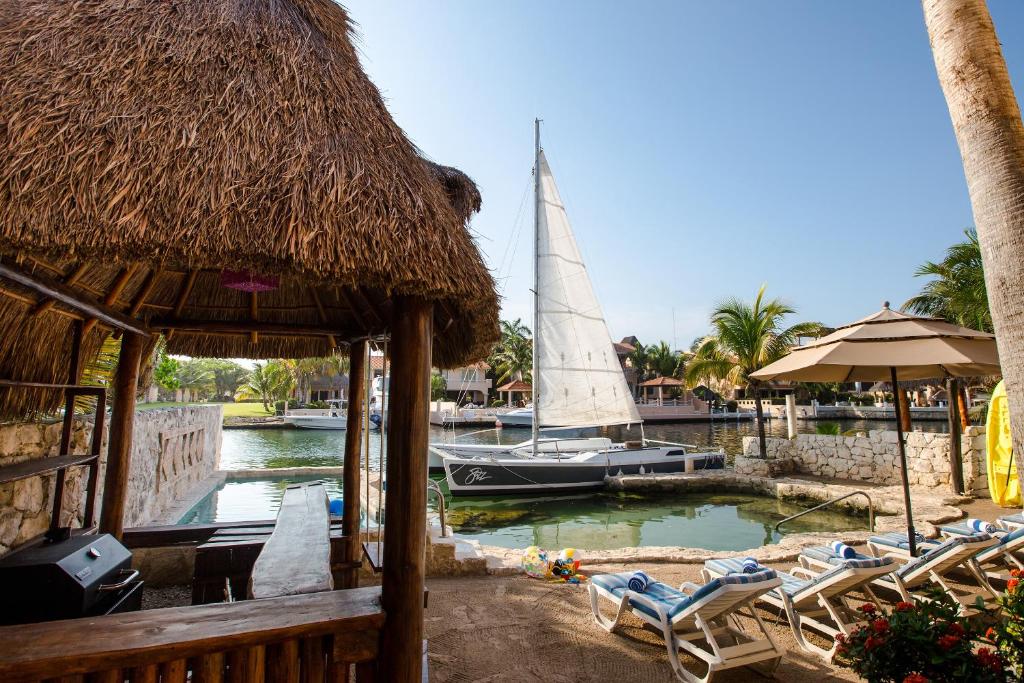 Hacienda Valentina
The Hacienda Valentina Puerto Aventuras hotel is a luxurious and elegant 5-star property located in the heart of the Riviera Maya, Mexico. Surrounded by lush vegetation and beautiful landscapes, this hotel offers the ultimate experience of relaxation and comfort.
Hacienda Valentina Puerto Aventuras features a variety of facilities and services including a large outdoor swimming pool, a spa, a fitness center and several on-site dining options.
The hotel is located in close proximity to major attractions and landmarks such as the Puerto Aventuras marina, Kantenah Bay and Xpu-Ha beach, making it a perfect destination for both business and leisure travelers.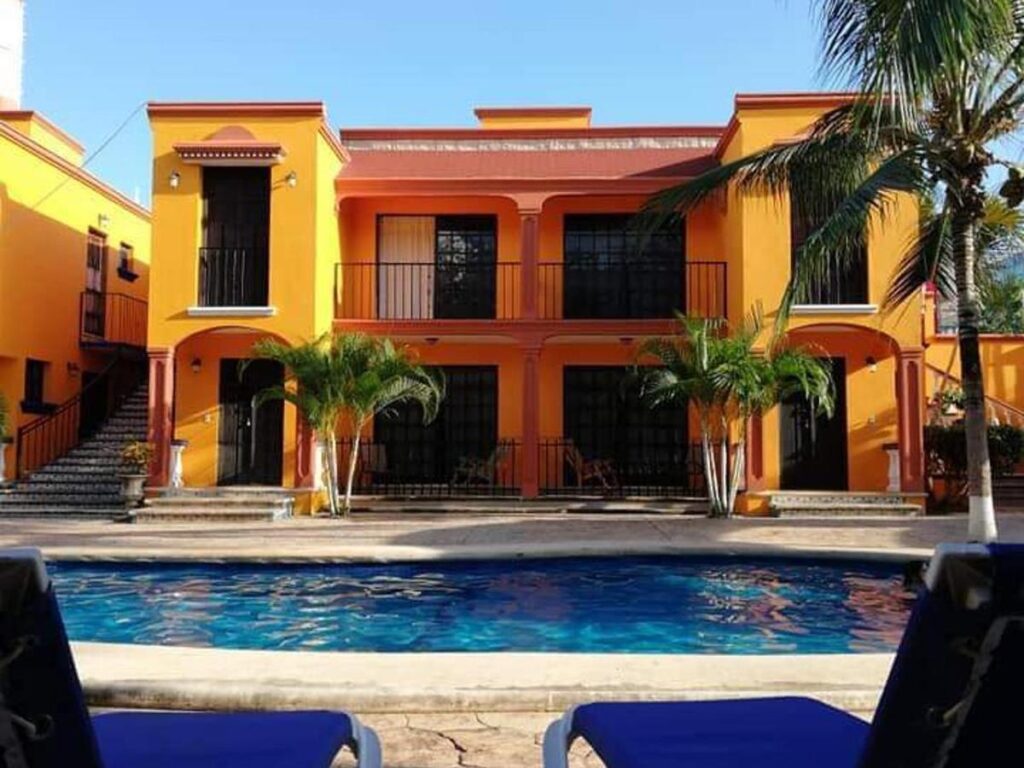 Hotel Club Akumal Caribe
Located in the heart of the Riviera Maya, Hotel Club Akumal Caribe Puerto Aventuras offers a luxurious experience to its guests.
This beachfront hotel features 66 fully air-conditioned rooms with private balconies, offering breathtaking views of the Caribbean Sea. Hotel amenities include an outdoor swimming pool, a solarium, a fitness center and a spa.
The hotel's restaurant, La Vista Azul, offers a wide variety of Mexican and international cuisine. Guests can also explore the nearby marina of Puerto Aventuras, where they can find numerous restaurants and bars, as well as discover the crystal-clear waters of Bacalar Lagoon and the ruins of Tulum.
Akumal Natura Glamping
The Akumal Natura Glamping hotel is an ecological refuge located in the Mexican Riviera Maya.
Boasting an exquisite combination of nature and luxury, the hotel features spacious glamping tents, equipped with all modern amenities such as private bathrooms, comfortable beds and air conditioning, as well as a private balcony or terrace.
Hotel facilities include a picturesque outdoor swimming pool, a restaurant serving fresh, locally sourced cuisine and a bar. In addition, guests can enjoy yoga sessions, massage therapies and other rejuvenating spa treatments.
In addition, one of the advantages of this place is having a perfect location for easy access to nearby attractions such as Akumal beach, the ruins of Tulum and the Xel-ha water park, making it an ideal place for a vacation full of fun and tranquility.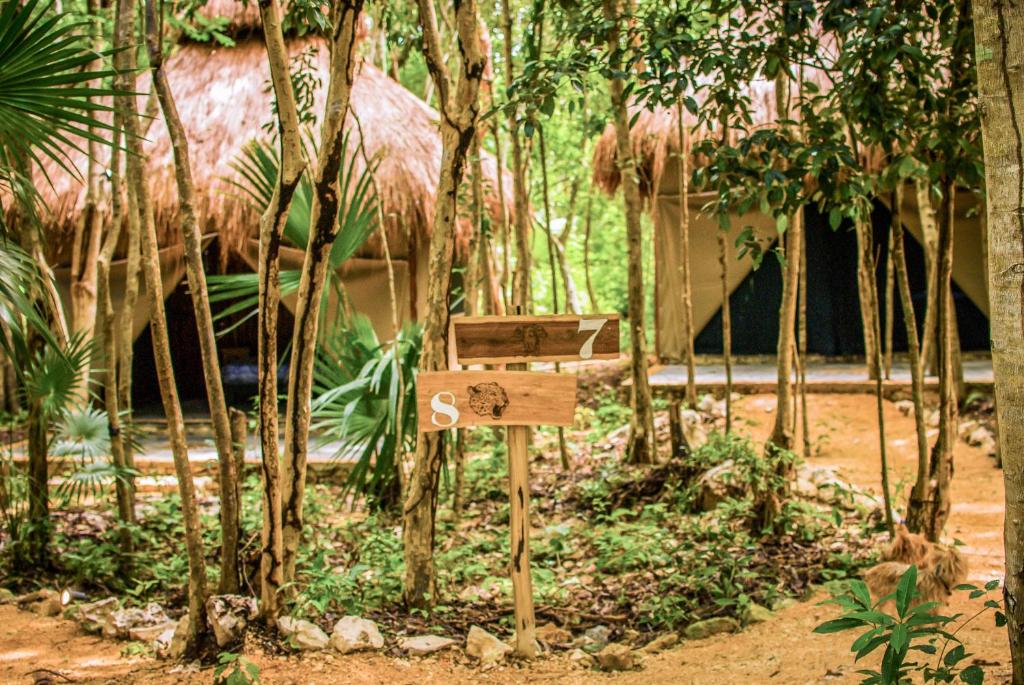 Conclusion
We end with this our top list and of course, we hope that any of these hotels is to your liking, is what you are looking for and of course, soon we hope to see you again here and do not forget to tell us which of these resorts you liked: We read you in the comments.